Spiritual Living Programs
The Franciscan Spirituality Center welcomes people from all walks of life and spiritual paths to come together to learn more about themselves, God and how to practice spiritual principles to foster spiritual wholeness and meaning in their lives. We hope you will find a place here to find your peace and joy!
All of the Spiritual Living programs at the Franciscan Spirituality Center are open to everyone at any time and don't require registration; simply stop by the front desk to check in with the receptionist.

These programs are ideal for people who are searching for community fellowship and support. Freewill offerings are appreciated.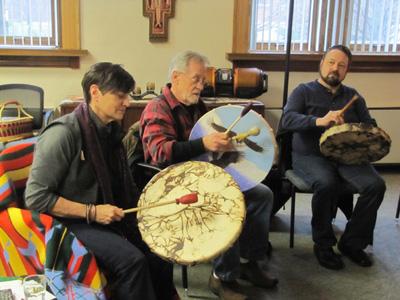 Caregivers Support Group is a new group for caregivers of older family members that meets on the third Monday of the month from 4-5:30 p.m. Are you in need of support as you care for a parent or spouse? Anita Dahlby, who is an experienced small-group leader and has walked the walk of caregiving, will facilitate. Find a space to consider where God is in the midst of suffering. Come connect with others in the community who share similar challenges, and leave knowing you are not alone. (Year-round)
Conversations that Matter is a men's group that provides the opportunity to dialogue with other men on issues that matter in their lives. The Wednesday group meets the first and third Wednesday from 6-8 p.m., and the Tuesday group meets the second and fourth Tuesday of the month from 7-9 p.m. To see whether the group meets your needs, call Vince at 608-386-7551. Freewill offerings are appreciated. Suggested offering: $5. (September-May)
Depressed Anonymous is a 12-step group for those dealing with depression to generate positive energies, form friendships and find support. Meetings are Mondays from 5:30-6:30 p.m. For more information, call Vince at 608-386-7551. (Year-round)

Drumming Circle meets the second Thursday of the month from 5:30-6:30 p.m. This group explores drumming as a form of prayer. Interspersed with drumming, we share stories and reflections. Bring your favorite drum. Freewill offering accepted. This group is facilitated by Rosalie Hooper Thomas. (Year-round)
Meetup: Practicing Open-Hearted Presence
meets on the second Friday of the month (with the exception of April 7) at 6:30 p.m. If you want to connect more authentically with yourself and others, join us for this meetup based on the Awareness, Courage and Love scale developed and researched at the University of Washington. Led by Kristin Peters, FSPA, we will practice open-hearted presence: self-expression, deep listening, acceptance and compassion, self-care, embracing vulnerability, giving and receiving support and living more boldly.After each meeting, you will leave with exercises and tools that you can try with family, friends, co-workers or intimate partners to deepen your relationships and move toward what you value most in life. Research indicates that people who are more interpersonally connected are healthier physically and psychologically and live more vibrant lives. More information at
www.meetup.com.
Mindful Meditation
allows you to find support, energy and discipline for your meditation practice in a group setting. The group starts with 20 minutes of sitting in silence, followed by five minutes of walking meditation, and then another 20 minutes of sitting. The session concludes with a short reading and time for sharing. No previous experience is necessary, and facilitator Shirley Morrissey, FSPA, is happy to provide an introduction to meditation if needed. Meets Tuesdays from 5:30-7 p.m. and Saturdays from 8-9:30 a.m. Call Sister Shirley at 608-787-8313 or email
smorrissey@fspa.org
with questions. This group joins
The Sound of Bowls
on the second Tuesday of the month. (Year-round)
Pregnancy and Infant Loss Support Group gathers on the second Wednesday of the month from 5:30-6:30 p.m. and provides a safe place for those who have suffered a miscarriage, ectopic pregnancy, stillbirth or the loss of an infant to share their stories. The grief arising from pregnancy or infant loss is often not understood or recognized by others, who may not realize that it is the bond you have formed with your baby that determines the depth of your grief, not the length of the pregnancy or how many days the baby lived. Other issues might include the stress of coping with birth and death at the same time, infertility, previous losses and grieving differences between partners. You'll have an opportunity to process your unique experience while receiving the comfort of others who understand. Our facilitators are Emily and Sean Mortenson, a local social worker and her husband who have personally experienced the loss of an infant. (Year-round)
Saturday Morning Men's Group enjoys coffee and muffins while discussing a current book related to spirituality. Meets on the third Saturday of the month from 9-11 a.m. Call Vince at 608-386-7551 for information about the book. Suggested offering: $7. (Year-round)
The Sound of Bowls meets the second Tuesday of the month from 5:30-6:30 p.m., and is led by Tom Roberts. Traditional historic Tibetan singing bowls produce sounds that invoke deep states of relaxation, naturally assisting one in entering expanded states of consciousness and meditation. The sound of the bowls creates a deep level of communication with our inner world that opens us to the Divine. Enjoy an evening of captivating renewal in the presence of ageless bell sounds. You are invited to wear comfortable clothes, as you will be able to sit or lie on the floor as is comfortable. This group is facilitated by Tom Robert. (September-May)