Finding God in All Things: The Spiritual Exercises of St. Ignatius in Daily Life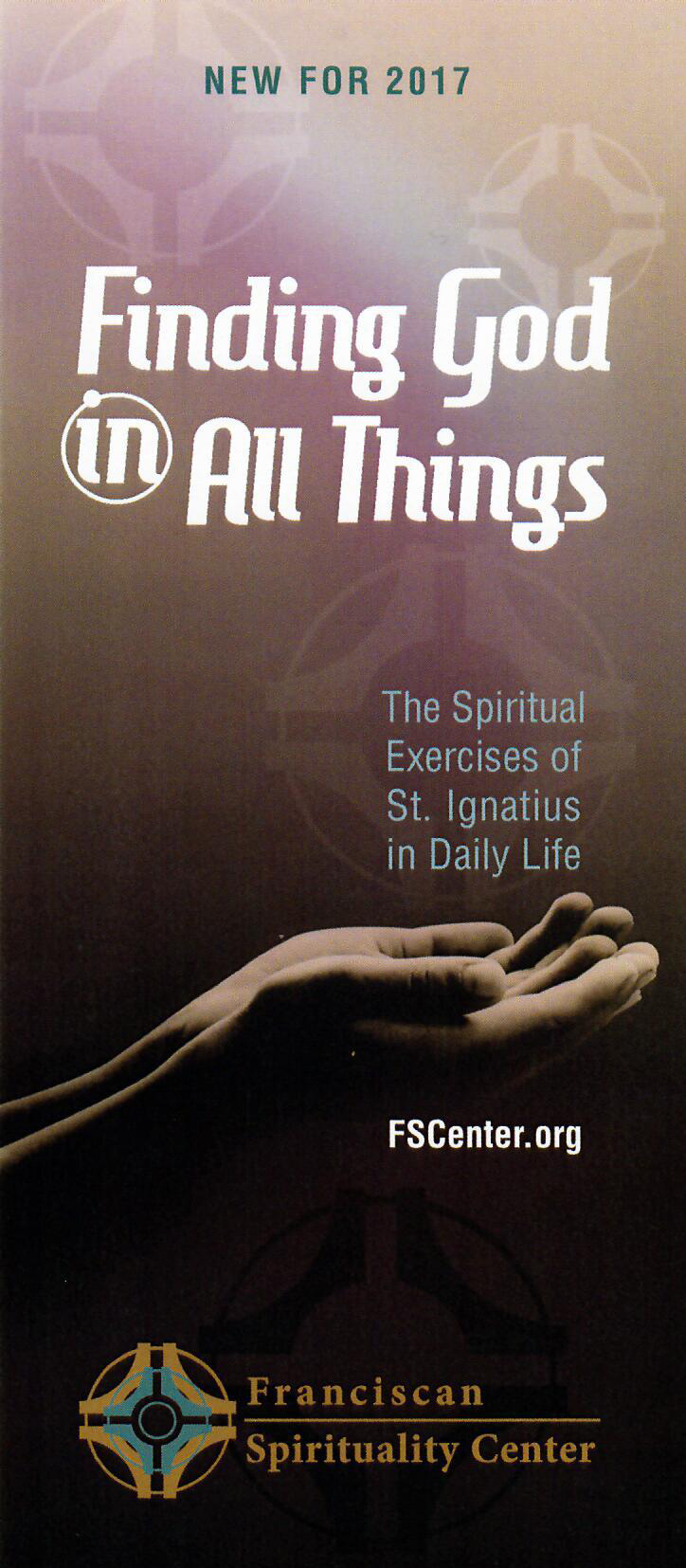 Where is God in the events of my life? Who am I? Who is God? What do I really desire in my life?
Finding God in All Things is a nine-month retreat experience that uses the Spiritual Exercises of St. Ignatius of Loyola to ask these questions and seek answers that reflect the uniqueness of you and your everyday life.
Together, in a safe and welcoming community, we will explore the spiritual practices of prayer, meditation, contemplative dialogue, Lectio Divina, gospel contemplation, the Examen and discernment, all within the context of a Franciscan framework.
Finding God in All Things includes:
• A spiritual toolbox of practices and ways of prayer that will help you discern the fingerprints of God in your daily life. You will live from your truest self as you come to know your desires, trusting your own steps of discernment on life's journey.
• Monthly gatherings that invite you to reflect on the unconditional love of the Creator, God's boundless mercy, the life of Jesus and his Passion, and Resurrection Living.
• Daily emails that foster a commitment to prayer and reflection in your everyday life.
• A monthly meeting with your spiritual director, who will listen to you as you discern the presence of the Spirit in your daily life.
Finding God in All Things is ideal for:
• Anyone who seeks the divine in every human experience.
• Anyone who wants to explore Ignatian methods of prayer and discernment.
• Both trained spiritual directors and those considering our Spiritual Direction Preparation Program.
• Anyone just starting a spiritual practice, all who seek to enhance their current practice and everyone in between.
ABOUT ST. IGNATIUS: St. Ignatius of Loyola was a 16th century Spanish priest and theologian who founded the Jesuit Order. Known for his practical spirituality, Ignatius famously authored the Spiritual Exercises, Christian meditations, contemplations and prayers designed to help retreatants discern the will of God in their lives. The exercises are divided into four thematic "weeks" of variable length and have been helpful to people of all religious backgrounds. Ignatian spirituality, as described by the Jesuit author and priest Father James Martin, S.J., encompasses finding God in all things (including religious services and charitable works but also friends, family, work, sex and even pop culture), becoming a contemplative in action, looking at the world in an incarnational way, and seeking freedom and detachment.
THE SCHEDULE
OPENING SESSION:
September 16, 2017 (Saturday, 9 a.m.-3 p.m.)
MONTHLY SESSIONS:
(Saturdays, 9 a.m.-1 p.m.)
• October 21, 2017
• November 11, 2017
• December 16, 2017
• January 20, 2018
• February 17, 2018
• March 17, 2018
• April 21, 2018
CLOSING SESSION:
May 19, 2018 (Saturday, 9 a.m.-3 p.m.)
Investment: $450 (includes program and lunch each session) plus the cost of monthly spiritual direction ($40-$60 per month). Payable in September or as monthly installments of $50.
Call 608-791-5295 or click here to register.
Click here to download a brochure.
We ask that you fill out a questionnaire to give us a better idea of your hopes and expectations for this retreat.
Click here for the questionnaire.