Finding God in All Things: The Spiritual Exercises of Saint Ignatius in Daily Life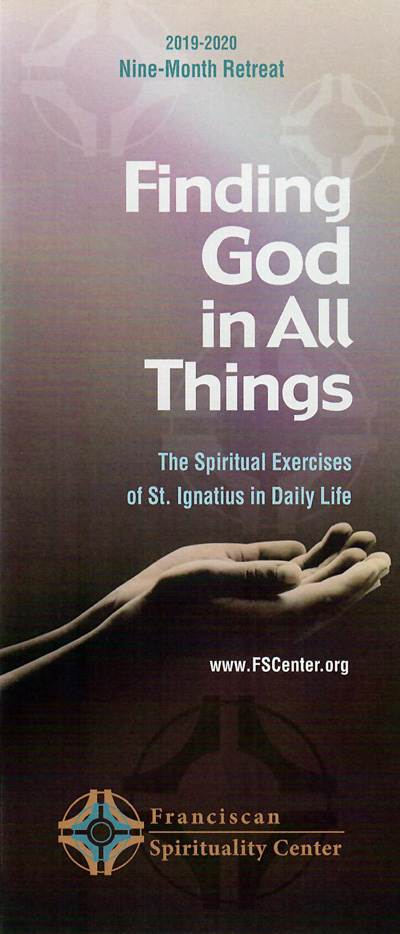 What do I really desire in my life? How can I make good decisions in an uncertain world? Where's God in my life? Who am I? Why doesn't my life make more sense?
Finding God in All Things is a nine-month retreat using the Spiritual Exercises of St. Ignatius of Loyola that invites you into a safe community in which to ask these questions and seek answers that reflect the uniqueness of you and your everyday life. We will explore the spiritual practices of prayer, meditation, contemplative dialogue, Lectio Divina, gospel contemplation, the Examen and discernment, all within a Franciscan framework.
Finding God in All Things includes:
•
A spiritual "toolbox" of practices and ways of prayer that will help you discern the fingerprints of God in your daily life. You will live from your truest self as you come to know your desires, trusting your own steps of discernment on life's journey.
•
Monthly gatherings that invite you to reflect on the unconditional love of the Creator, God's boundless mercy, the life of Jesus and his Passion, and Resurrection Living.
•
Daily emails that foster a commitment to prayer and reflection in your everyday life.
•
A monthly meeting with a spiritual director, who will listen to you as you discern the presence of the Spirit in your life.
Opening session:
September 21, 2019 (Saturday, 9 a.m.-3 p.m.)
Monthly sessions:
(Saturdays, 9 a.m.-1 p.m.)
October 19, November 16, December 14, 2019;
January 18, February 15, March 21, April 18, 2020
Closing session: May 16, 2020 Saturday (9 a.m.-3 p.m.)

Investment: $450, includes program and lunch each session, payable in September or as monthly installments of $50.
Additionally, you will pay for monthly spiritual direction ($50-$70 per month).
Presenters: Franciscan Spirituality Center staff
Register
here
or call 608-791-5295.
Registration deadline: September 1, 2019