Retreat Offerings
"Come away with me to a quiet place."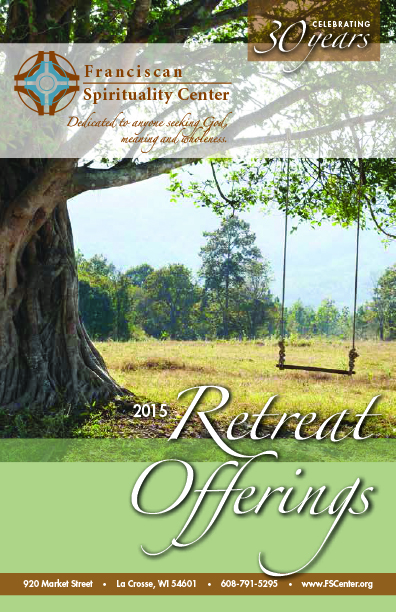 We are pleased to present our 30th Anniversary Retreat Offerings. You can download the Retreat Booklet here or scroll down the page to see, in chronological order, the retreat listings and descriptions. To register for any of these retreats, simply click the link to read more and you will be directed to a detailed description page with pricing and registration information.
For online registration, we only require a non-refundable deposit that is payable with your credit card or Pay Pal account. Full payment must be received 30 days prior to the retreat start date and can be submitted by check or with credit card over the phone by calling 608-791-5295 or emailing us at FSCenter@fspa.org.

Please inquire about our scholarships by calling Laurie Swan, office manager, at 608-791-5279. All requests are held in confidence, and we respect your privacy.
---
St. Francis and the Universe Story
February 22-28, 2015
Retreat leader: Meg Gemar, OSF
Francis, Clare and their contemporaries were aware of the Universe Story as they knew it in the 13th century. As mystics, they understood that everything is connected. As 21st century Franciscans and others who are concerned about relationships, we need to understand the Universe Story as we know it today. It is a story filled with mystery and awe. This story can enhance and deepen our spirituality, our connection to God, other humans, other life forms and our home on Earth. Each day will include a presentation and time for reading, reflecting, journaling and sharing.
Click to read more.
---
Listening Like the First Time: Triduum Retreat
April 2-4, 2015
Retreat leader: John McHugh

The liturgies of Holy Thursday, Good Friday and the Easter Vigil have some of the most memorable and powerful scripture passages of the year. Even though these readings are proclaimed year after year, they never lose their impact for our spiritual journey. Join John McHugh as he breaks open the Triduum Scriptures in a way that will deepen these beautiful liturgical celebrations. Click to read more.
---
Icon Writing: Sacred Windows to the Divine
July 5-11, 2015: Christ the Teacher Click to read more.
Retreat leader: Phil Zimmerman
Each icon will be written from start to finish in a step-by-step gradual process ending with a beautifully completed icon varnished and ready to display. Anyone can enter into this spiritual process, expressing through the icon the mystery of the image portrayed. We begin each day with meditation and praying. Phil supplements the workshop with information about the history of Byzantine and Russian iconography.
---
Yoga Retreat: Grace From Within
June 5-7, 2015
Retreat leader: Heather Henry
Enjoy merging mind, body and spirit through this glorious heart-centered retreat. Encompassing postures and slow breath work, sacred sound and meditation, this retreat experience will support one in finding balance and aligning with nature's rhythms. Whether you are beginning a practice, or deepening one, the flow of gentle yoga will encourage a release of the unnecessary and reclaim the Divine from within. Acknowledging each person as beautifully unique, participants are invited to honor their bodies and find their personal rhythm to nurture the unattended aspects of their body and self, and be touched by Grace. Click to read more.
---

In the Heart of Compassion
June 8-12, 2015
Retreat leader: Janet Mallak, SSND

Every now and then, we meet someone who makes our day or our life better. Often, it is a compassionate person who is present in care and love. In the various stages of our life, we meet transitions, changing relationships, vulnerability and transforming grace. Compassion eases the journey. Through the eyes of mystics and scripture, we will ponder the call of compassion within ourselves and the world. In the words of the Dalai Lama we hear, "Compassion is the radicalism for our time." Click to read more.
---
Silent Directed Retreat
June 26-July 1, 2015
Retreat leaders: Rose Elsbernd, FSPA, Barb Kruse, Linda Kerrigan, Marcia Bentley and Steve Spilde
Let go of your email, voicemail and other distractions, and come spend time in the quiet. During this silent retreat, there will be plenty of time for prayer, contemplation, solitude and, if you wish, access to daily Mass and the St. Rose Perpetual Adoration Chapel. In addition, participants will meet individually with a spiritual director for one hour each day. Amenities include a private room, prayer spaces, lending library, Sophia Bookstore, beautiful courtyard adjacent to St. Rose Convent, nearby Mississippi River and biking/hiking trails, and walking labyrinth. (Commuting is not an option for this retreat.) Click to read more.
---
Into the Heart of the Word
July 18-21, 2015
Retreat leader: Theresa Washburn
Why is writing so life changing? Something we read can inspire us to think more deeply, and something we write can relieve of us pain. In this retreat, we will go deeply into the heart of words that heal and writing that transforms us. We will learn how to use writing as a tool for positive change and explore the how and why of the techniques that help us to reach the heart of what we want to say. There will be plenty of time to write during this retreat. Please bring a pen and plenty of paper, as well as one of your favorite poems or a piece that truly inspires you. This retreat is open to anyone who enjoys the written word. Click to read more.
---
Transitions: Challenges and Opportunities
August 28-30, 2015
Retreat leaders: Joyce Heil and Carl Koch
We know that transitions or changes are a constant, but they can be scary. They also can be new beginnings. They challenge us and offer opportunities. All transitions certainly raise a lot of questions: Who am I now when I am not what I used to be? And, does anybody really care? How do I want to live now that this old way is gone? We'll talk about these questions and some of the wisdom learned about making transitions successfully. You also will have quiet time to ponder and plan. Click to read more.
---
Awakening to Dreams: A Retreat for Spiritual Directors
November 20-21, 2015

Retreat leader: Joann Gehling
This retreat is ideal for graduates of FSC's Spiritual Direction Preparation program or other spiritual directors. We'll explore Carl Jung's terminology and map of the psyche, methods for working with dreams, dream language, the processing of dreams and various ways to pray with dreams.