Our History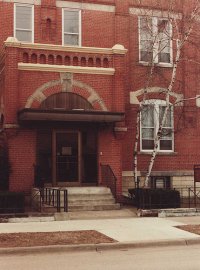 The seed for the Franciscan Spirituality Center was first planted in the mid-seventies when the Franciscan Sisters of Perpetual Adoration were invited to be the directors for the summer retreats at St. Rose Convent. Recognizing the need for further training for those entering into the ministries of retreat and spiritual direction, the group sent a proposal to the FSPA General Board recommending the establishment of a center for adult spiritual formation and such training.
In the fall of 1982, the FSPA General Board under the leadership of Sister Paula Ripple, president of the Franciscan Sisters of Perpetual Adoration, designated the east end of the St. Rose complex as the future home of the Franciscan Spirituality Center. Renovations to create meeting rooms, offices and bedroom accommodations began.
Kathleen Kenkel, FSPA, was named the first director and officially began her duties in December 1984. Sister Kathleen said at the time that she hoped her community would be "opening our doors to all who seek to enhance their lives through the pursuit of wisdom, goodness and beauty."
The FSC was blessed shortly after its completion and formally dedicated in fall of 1985 by Bishop John Paul of the Diocese of La Crosse.
The original mission of providing a place where all would be welcome and where people of different faith traditions could gather together for spiritual conversation, prayer and reflection remains the same today.
Subsequent FSC directors are Mary Kathryn Fogarty, FSPA (1988-2000), Vince Hatt (2000-2011), Jeff Dols (2011-13), Audrey Lucier (2013-2022) and Jean Pagliaro (2022-present).
Click here to read a history of the FSC written by Sister Mary Kathryn