Franciscan Spirituality Center Hermitages
Hermitages are open for the season. We're taking precautions to ensure your safe visit. Hermitages sit vacant after a guest's departure and then are disinfected per CDC guidelines.
We invite you to make a private retreat at one of our three hermitages. Here you can enter into silence, contemplation and connect to nature and God.
To check availability and make a reservation, please contact our office at 608-791-5295.

Click here for a video tour.

In 1895, farmland was purchased in the rural village of St. Joseph, Wisconsin (commonly referred to as St. Joseph's Ridge), by the Franciscan Sisters of Perpetual Adoration to provide food for the community of St. Rose Convent and St. Francis Hospital. The farm eventually became Villa St. Joseph, a retirement home for the FSPA.
In July 1990, three newly built hermitages on Solitude Ridge became the Franciscan Spirituality Center's responsibility. The hermitages offer people a quiet place to unplug from their busy lives to pray in silence and solitude. These three hermitages are just an easy 15-minute drive from the Franciscan Spirituality Center at 920 Market Street in La Crosse, Wisconsin. You may choose to meet with a trained FSC spiritual director during your stay.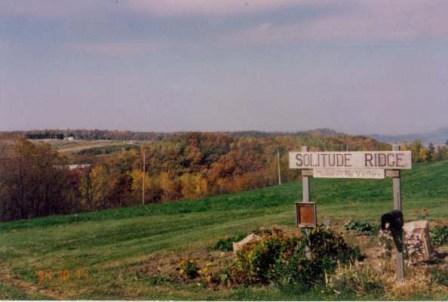 The hermitages are one-room cottages with all the modern conveniences that you would expect. Each hermitage has electricity, heat and electric fireplace; a bathroom with a shower; mini-kitchenette with a stove, refrigerator and microwave; CD/tape player and phone for emergency. Furnishings include a twin bed, an easy chair, and a small table and chair. Towels and bed linens are provided. Guests are asked to bring their own toiletries and food. Meals can be prepared by you at your own convenience. Hermitages are single occupancy and meant to be used for spiritual retreats only.
If you seek a beautiful, tranquil place to retreat to for private and personal reflection, reserve a night at one of these three hermitages for only $70/night.
Once COVID-19 restrictions have ended: Depending on availability, it is also possible to schedule use of a hermitage for the day only at a reduced rate. Please call 608-791-5295 for more information.

Hermitage Fee Schedule
Click here to download a rate sheet.

To schedule your stay at one of these peaceful and serene hermitages on Solitude Ridge in St. Joseph, Wisconsin (La Crosse County), please call the Franciscan Spirituality Center at 608-791-5295.