Spiritual Direction Preparation Program
Do you wish to help others discover a personal, intimate relationship with God? Are you interested in preparing for retreat ministry or training to become a spiritual director? Are you looking to hone your deep, compassionate, nonjudgmental listening skills?
We invite you to consider our Spiritual Direction Preparation Program (SDPP). Our next cohort will start next year.

Click here for an application (PDF).
Click here for an application (Word Doc)
Click here to watch our video about SDPP.
Click here to download a brochure.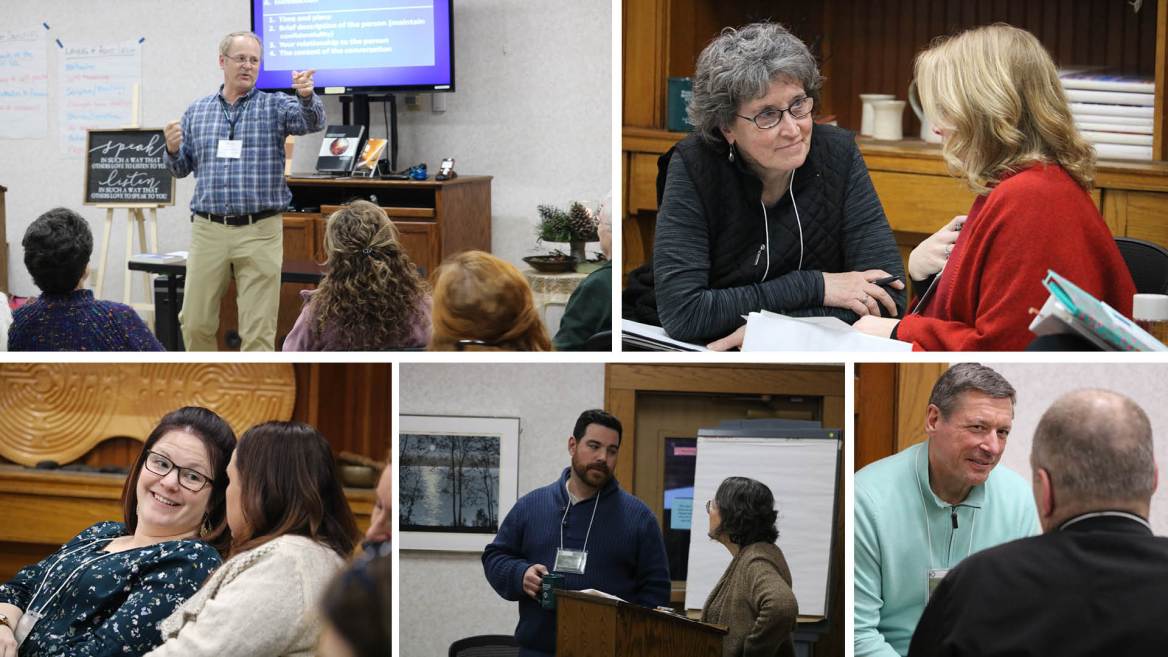 Innovative, three-year training program.
Since 1985, we have trained more than 600 people in the practice of spiritual direction. This innovative training program provides a mix of workshops and real-life experiences to prepare individuals to share their compassionate listening skills as trained spiritual directors in their communities.
Spiritual directors are compassionate, nonjudgmental listeners who accompany people on their spiritual journeys. Spiritual directors come from all walks of life and do not offer counseling, advice or problem-solving but rather serve as trusted guides to help others discover their inner wisdom.
The Spiritual Direction Preparation Program extends over three years, giving participants an opportunity to integrate theory and practice. While SDPP prepares the participant to direct others regardless of their faith or religious affiliation, the Franciscan Spirituality Center teaches from the Judeo-Christian tradition. This program is designed to form and train candidates through practical workshops, verbatims, reflections, readings, quarterly meetings and one-on-one supervision.

Starting with this cohort, SDPP will integrate longer in-person gatherings with added virtual workshops. This will preserve the high-quality group interaction we treasure, yet reduce the travel time for those who come from a distance to participate in this long-respected program. This format also allows us to include much more content and provides additional opportunities for group processing of the material. There will be an in-person retreat option for the virtual weekends with an opportunity to stay at the Franciscan Spirituality Center and interact with fellow participants.
Program fees: $2,950 per year
$150 discount if the tuition is paid in full by September 1 of each year
Fees include tuition for all in-person workshops, Zoom workshops, practicum in Year 3, quarterly meetings, annual review with supervisor and all administrative fees, meals and snacks. Fees are payable in installments.
Please speak to program director Steve Spilde about individual plans. Limited scholarships are available.
SDPP is designed for:
Those who are older than 30 and drawn to a deeper understanding of spiritual direction.
Those who have not had formal training in spiritual direction.
Those preparing for a ministry of spiritual or retreat direction and/or the practice of redemptive listening.
Those who would like to deepen their spiritual and personal development.
Those who have at least one year of experience receiving regular spiritual direction.
SDPP participants learn by:
Attending required in-person and virtual workshops.
Processing experiences with fellow participants.
Practicing direction skills using monthly verbatims.
Meeting quarterly with a supervisor who is an experienced spiritual director.
Writing reflection papers on required books and articles.
Participating in annual reviews.
Expected outcomes:
Lifelong compassionate listening skills.
Strong community development with a cohort of between 25-35 participants.
Personal transformation and deeper spiritual understanding.
Increased self-awareness and deeper interpersonal relationships.
Certificate of completion as a trained spiritual director.