Newly remodeled bedrooms
Yes, you can stay overnight here!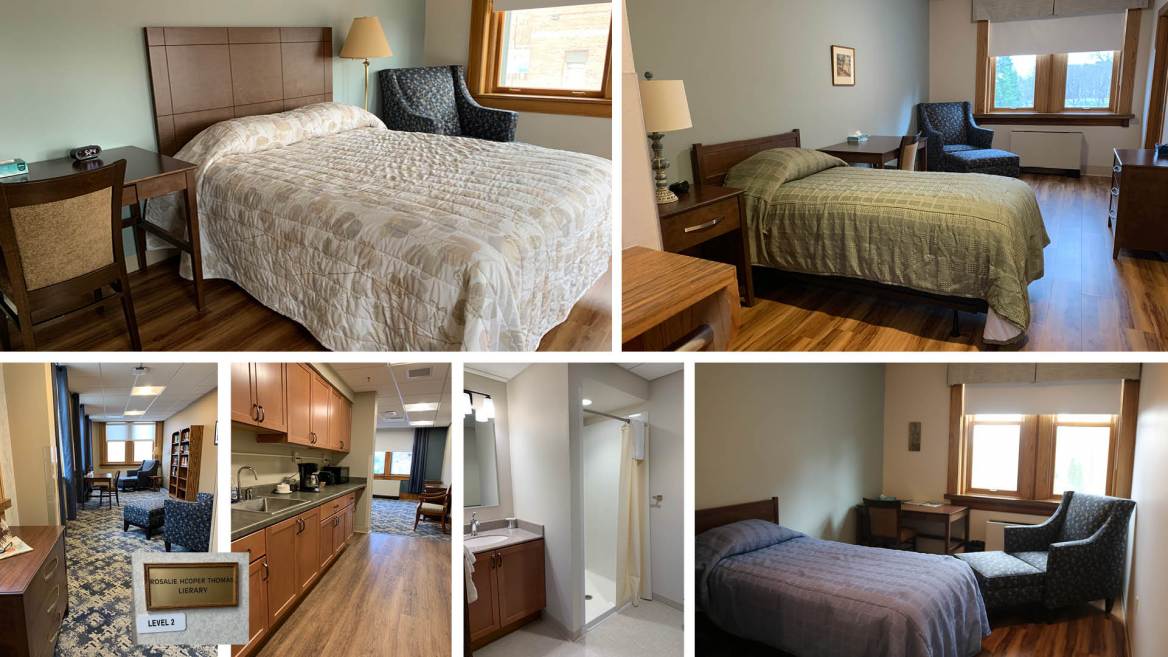 People are sometimes surprised to learn that there are bedrooms at the Franciscan Spirituality Center. We have 32 to be exact (plus three hermitages in nearby St. Joseph Ridge).
Our weekend and longer retreats typically include an option for overnight accommodations, but you can add a bedroom stay to just about any program for just $65 per night. Meals are available, too, for a small charge.
We invite you to experience the peace and hospitality found within our sacred space. This is an ideal setting for rest and renewal – a break from the stress and busyness of life.
Both men and women are welcome to stay at the FSC.
We've recently completed a major remodeling project. Each bedroom now has a private restroom with shower, plus new flooring, furnishings, window treatments and bedding. We also have rooms suitable for double occupancy and for wheelchair accessibility.
Other additions include a spacious kitchenette for guests and the Rosalie Hooper Thomas Library, where you'll want to curl up with a good book.
In addition to registering for any of our scheduled retreats, you are welcome to design a custom retreat with one of our trained spiritual directors. We're happy to work with your schedule and your needs to create a meaningful experience.

"I am very honored to be a guest of FSC. It has been a sacred experience." – Pat, overnight retreat participant
ABOUT THE NEW LIBRARY/READING ROOM
One of the major contributors to our endowment campaign chose to honor Rosalie Hooper Thomas with her financial gift. In addition to being a friend of the FSC and generous supporter herself, Rosalie is a spiritual director and former staff member. Rosalie retired in 2014 after 12 years at the FSC, but we were fortunate that she continued to lead programs and facilitate groups for several years.

The library is a warm and inviting spot to enjoy a cup of tea and read while you are on retreat here. You also are welcome to sit in the library between 8:30 a.m. and 5 p.m. Monday through Friday. Simply check in at the reception desk.